Not all water makes it into our bottles. Each drop of water must exceed industry and company standards. Specifically, international and industry bottled water quality standards establish limits for microbiological, physical, chemical and radiological substances for bottled water products. We take pride in the fact that our bottled water production plant is annually inspected, by independent, international third-party organizations.
Our Process
Oasis Water is produced in a modern, state of the art production plant located near the Deep Water Harbor in St. John's. The facility was granted FSSC-22000 certification in early 2017. The FSSC-22000 Food Safety Certification is a globally recognized food safety standard that provides a framework for effectively managing an organization's food safety responsibilities. FSSC-22000 is recognized by the Global Food Safety Initiative (GFSI) and is based on existing ISO standards.
We also produce our bottled water under the strict guidelines of the USA-based International Bottled Water Association (IBWA) of which we are a member. The IBWA works closely with the U.S. Food and Drug Administration (FDA), which strictly regulates bottled water as a packaged food product, and (US) state governments to set stringent standards for safe, high-quality bottled water products.
Both accreditations require audits of our facility and process to be carried out annually. This ensures that we provide consumers with the safest drinking water.
Oasis Purified:
"Purified" water is water that comes from any source, but has been purified to remove any chemicals or contaminants. Keep your body pure and healthy by drinking only the purest water. Oasis Water goes through a rigorous multi-step filtration process which includes chlorination/de-chlorination, reverse osmosis, activated carbon and micro filtration, and ozone disinfection.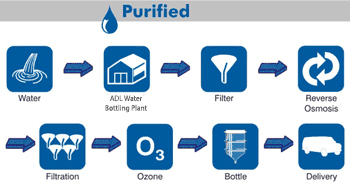 Oasis Mineralized:
Our "Mineralized" water goes through the same purification process as Oasis Purified, with natural mineral salts added to the water at the end of the process. Re-Mineralizing water is said to have the following benefits:
You need the minerals, especially if you're not eating properly or you've been out in the heat sweating. The primary minerals that your body needs to replenish are calcium, magnesium, potassium and salt, though there are many others, too.
Re-mineralized water quenches thirst better and is absorbed by your body faster. This is a point of contention but the argument for faster hydration states that adding minerals back into the water boosts the pH and brings it back to an alkaline state. The water becomes ionized, which makes the water molecules cluster into smaller groups, which makes it easier for your body to absorb.
Re-mineralized water tastes better. Though this is subjective, it's true that the human palate is used to the flavor of water with minerals in it. It gives it a fuller flavor (that is to say, it gives it SOME flavor) that many people find preferable to purified water.
Water Quality Report
As part of our commitment to international food safety standards, our water is submitted for independent, third party testing every 3 months. Currently, this external testing is done by Maxuum Canada, a member of the Bureau Veritas Group of companies – a world leader in testing, inspection and verification services. Click here to view our latest test report.